Your business partner for capital needs

---
Fulfill the goal of your business with us
Service Charge/ Processing Fees
Small and Medium Entrepreneurs engaged in trading/manufacturing business activities.
Demand Loan/overdraft against charge on movable assets.
Minimum - UGX 2 Million and Maximum - UGX 10 Million.
Credit requirement is assessed at 15% of acceptable projected turnover subject to minimum margin of 5% on projected turnover.
Applicant firm should have satisfactory operative Current account with our bank at least for last three (3) months and no cheques are returned in the account for financial reasons.
Firm should be profit making for last two (2) consecutive financial years and it should be profit making at least for last one (1) year.
Minimum net worth of firm should be UGX. 5 Million or double of the limit proposed, whichever is higher.
5% over PLR with monthly rests.
* Interest rate is subject to change from time to time. View latest Interest Rate
** For further details, contact any of our Branches in Uganda
• Processing charges 1% and arrangement fees 1.5%.
| | |
| --- | --- |
| Minimum | Ugx 2 Mn. |
| Maximum | Ugx 10 Mn. |
Demand Loan : Repayment of demand loan depends on repaying capacity of borrowers subject to maximum -24- months with moratorium period of -3- months.
Overdraft : Overdraft is subject to annual review.
No mortgage of property/ies asked for under the scheme.
Personal Guarantee of one or two persons having adequate means acceptable to bank. This guarantee will be in addition to personal guarantee of Directors of company/partners of a firm etc.
Hypothecation of movable assets.
Advance cheques (post-dated) to be obtained from borrowing firm to secure repayment of bank loan (for Demand Loan).
Application form along with audited financial statements for last three years with projections of ensuing year.
Undertaking to do banking exclusively with our bank.
Demand Promissory Note
Letter of Installments (Demand Loan) / Letter of Continuing Security (Overdraft)
Letter / Undertaking for tendering advance (post-dated) cheques to repay loan and taking legal action against borrower in case of dishonor of cheques.
Agreement of Hypothecation of movable assets.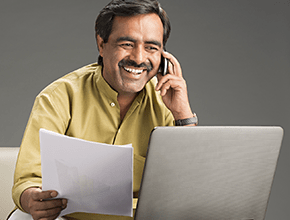 Request Callback
Please fill in these details, so we can call you back and assist you.