Redefine your home buying journey

---
Apply online for your dream home today!
Owning your dream home is no longer a fantasy and it is easier than before. Redefine your home buying journey, apply for your dream home today!
Maximum Ugx.800 million including the cost of Insurance premium of the House Subject to repaying capacity. Quantum of loan amount should not exceed:
-48-times of gross monthly income of the borrowers who are in service / employment.
Individual in single OR joint names.
The property under loan will be insured and Borrower's life will also be insured.
* Interest rate is subject to change from time to time. View latest Interest Rate.
** For further details, contact any of our Branches in Uganda
Construction of new dwelling units / flat / Purchase of Flat under construction.
Purchase of old houses, generally not more than 15 years old (based on structural soundness and residual life of the house).
Repayment of loan availed from other banks / institutions for the purpose of financing house / flat.
Purchase of plot to construct a house within a period of 2 years from the date of purchase.
Houses/Flats purchased or constructed from own sources (period not exceeding 2years)
At 2% below PLR with monthly rests. 2% additional interest (Penal Interest) in case of default in repayment schedule.
Total gross deduction including installment of Housing Loan should not exceed 70% of Gross Income.
Up to 15 Years (including moratorium period)
Moratorium period maximum 12 months (for new constructions only)
Age of the borrower plus repayment period should not be beyond retirement age in case of salaried persons.
In case of self employed / professionals / other individuals: Age of the borrower plus repayment period shouldn't be more than –55- years.  
Mortgage of flat / house / plot
Personal guarantees of spouse / co-borrower, any individual of good repute and worth.  
Principal Borrower 21 years & Joint borrower may be of 18 years.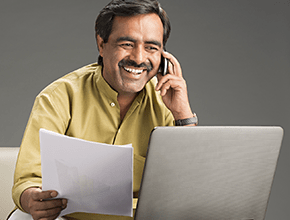 Request Callback
Please fill in these details, so we can call you back and assist you.