Transact the smart way in a digital world

---
Experience hassle-free banking transactions
Bank of Baroda (Uganda) Ltd. launched transaction based internet banking – Baroda Connect on 7th June 2010. 'Baroda Connect' is an umbrella of various services offered electronically to Retail and Corporate Customers. It is a web-based delivery channel having view-based and transaction-based banking services both at the desktop of the customers. It is highly secured and available round the clock to the customers. Customer can access his account in secure and exclusive way using different sign-on and transaction passwords.
For Retail & Corporate Customers
24 x 7 Online Anytime Anywhere Banking just at the click of a mouse.
Summarized view of all Deposit and Loan accounts across all branches in Uganda.
Online Fund Transfer (Self, Third Party) across the accounts in the same currency within the Bank
Balance Inquiry and viewing / printing of account statement
Receive instant s or Messages of account status (Optional).
View details of the activities (financial/non-financial) carried out by the customer.
Additional Features For Corporate Customers
Limits for multiple users to initiate / approve transactions as per the requirements of the Corporate.
Uploading of Salary of employees having accounts in the Bank.
** For further details, contact any of our Branches in Uganda.
Locker facility is provided by the bank at its selected branches currently being offered at Kampala Main, Jinja, Kansanga, Kololo, & Mbale branch.
For obtaining a Locker, you must be an account holder with Bank of Baroda (U) Ltd.
Allotment of Lockers is on first come first served basis on availability of lockers to the Bank's customers only
Lockers can be allotted both individually (except minor) as well as jointly.
** For further details, contact any of our Branches in Uganda.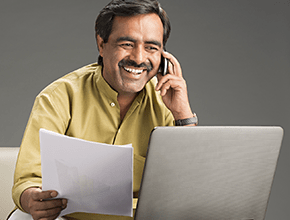 Request Callback
Please fill in these details, so we can call you back and assist you.

What is internet banking?

Internet banking, also known as online banking, is a digital service provided by banks that enables customers to perform financial transactions over the internet. This includes checking account balances, transferring funds, and paying bills. Internet banking offers the convenience of accessing banking services anytime and anywhere with an internet connection. It is a secure and reliable method for managing finances.

How do I apply for Bank of Baroda's internet banking service?

To make an application for internet banking, go to our website and select "Internet Banking" under the Digital Channels tab.
Choose your account type and complete the necessary information.
After submitting the application for internet banking, you will receive a User ID and temporary password from the bank.
Log in using these credentials and set your own password.
Enjoy secure and convenient access to Baroda Connect transaction-based banking services.

What are the benefits of using internet banking?

Internet banking enables customers to access their accounts and conduct transactions anytime and anywhere with an internet connection.
Internet banking employs multiple layers of authentication and encryption to ensure the protection of customers' sensitive information.
Customers have greater control over their finances through real-time monitoring of accounts, setting up alerts, and making informed financial decisions quickly.