No bar for your financial requirements

---
Opt for our corporate banking services
Non Fund Based Services / Products
Bank of Baroda offers non fund based products to its clients as follows
The bank offers a variety of Non fund based products to its customers (especially those who are engaged in business activity) to help them bid for contracts, get advance payments and also to order for raw materials, capital equipments from abroad. These products can be broadly classified into two categories.
A letter of credit (LC) is a written but a conditional undertaking given by the issuing bank on behalf of its customer, to the (beneficiary) that it will pay him the amount stated in the credit provided documents specified in the letter of credit are drawn and presented in strict conformity with the terms and conditions of the credit.
We offer Letter of Credit facility to our clients for procurement of goods on DA/DP basis as per their needs at very competitive rates. Considering our international network of branches / offices coupled with worldwide correspondent relationship arrangements, our clients enjoy market acceptability and comfort in business deals.
Bank Guarantee: Bank guarantee is a guarantee given by a bank to a third person, to pay him a certain sum on behalf of the bank's customer, on the customer failing to fulfill any contractual or legal obligations towards the third person.
We offer Bank Guarantee facility to our clients guaranteeing their performance / financial obligations in the domestic as well as international market.
** For further details, contact any of our Branches in Uganda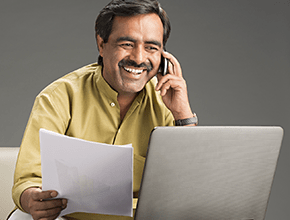 Request Callback
Please fill in these details, so we can call you back and assist you.