Empowering traders and their trade

---
Flexible loan options for your upcoming business needs
Baroda Traders Loan (BTL)
Assessment of Working Capital
All persons engaged in trade of any commodity / goods not prohibited by law or not opposed to public interest. Individuals, Firms, Pvt. Ltd. Co; Proprietorship and partnership concerns engaged in trade, Registered Co-op. Societies are also eligible.
The credit facility may be considered for Traders who are established in their line of business preferably for 2 years.
Trading units established by our existing customers with satisfactory dealings, even if these are established for less than 2 years but more than 1 year.
| | |
| --- | --- |
| Maximum | Ugx 10,000,000/- (Ten Million) |
| Minimum | Ugx 500,000 |
Advance value of collateral security or 20% of the projected annual sales subject to verification of proof of sales i.e. sales tax returns of previous year etc., Which ever is less.
10% on Bank's own Fixed Deposit Receipt (FDR). 40% on immovable property as per recent valuation report
For working capital requirements.
Need based requirement of funds for development of shop by way of loan up to a maximum of 25% of the limit sanctioned for working capital.
PLR + 2% with monthly interest rates.
Overdraft: 12 months subject to annual review.
Maximum 48 months (depending on repayment capacity) subject to annual review.
* Interest rate is subject to change from time to time. View latest Interest Rate
** For further details, contact any of our Branches in Uganda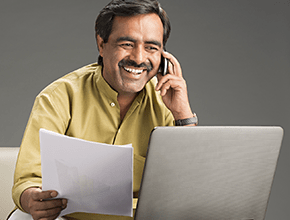 Request Callback
Please fill in these details, so we can call you back and assist you.